Vedoucí laboratoře: Doc. Mgr. Lidmila Burianová, CSc.
Tématika výzkumu
Experimentální studium piezoelektrických, dielektrických a elastických vlastností monokrystalů, polykrystalických a kompozitních materiálů.
Metody: rezonanční, subrezonanční, ultrazvuková, hydrostatická, měření hysterezní smyčky.
- Určování elektromechanických vlastností pevných látek rezonanční metodou.
- Stanovení hydrostatických piezoelektrických koeficientů s použitím statické a dynamické metody.
- Měření rychlosti a útlumu šíření ultrazvuku v pevných látkách.
- Studium fázových přechodů feroelektrických materiálů.
- Měření hysterezní smyčky.
Přístroje:
Impedanční analyzátor HP 4192A, 5Hz-13MHz
Ultrazvukový systém MATEC 7700
Vysokotlaká hydrostatická komora do 60 MPa
Elektrometr Keithley 6517
Fázově citlivý zesilovač SRS 830
LCR metr HP 4276A
d33 metr ZJ-3C
Piezo-d meter SensorTech SS-01
Měřicí systém hysterezní smyčky
Aparatura pro polarizování vzorků
Snímač malých posunutí Fotonic MTI-2100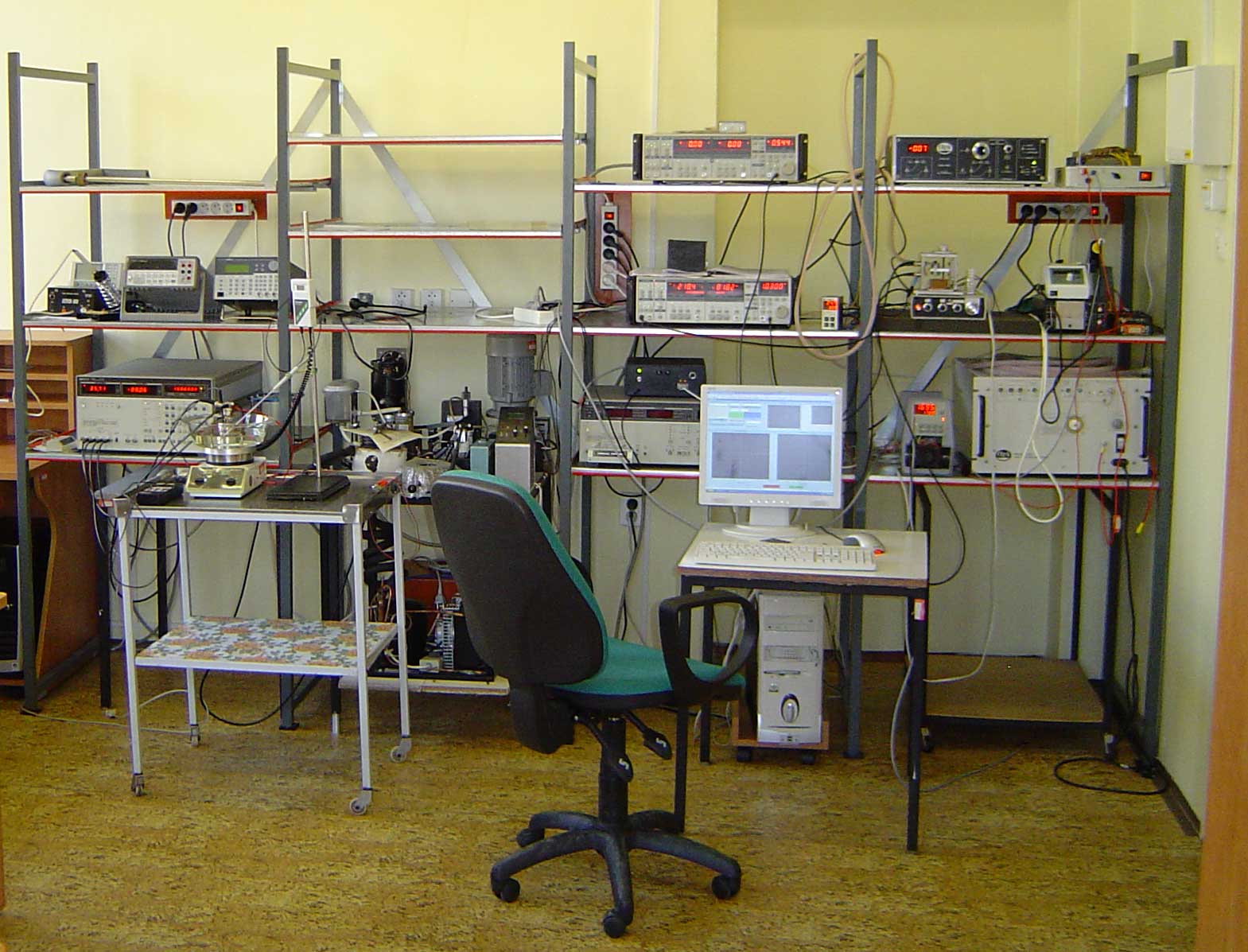 Scope of research
Experimental study of piezoelectric, dielectric and elastic properties of monocrystalic, polycrystalic and composite materials.
Methods: resonance, subresonance and ultrasonic.
- Determination of material properties of solids by resonance method.
- Determination of the hydrostatic piezoelectric coefficients using static and dynamic method.
- Measurement of velocity and attenuation of ultrasound in solids.
- Study of the phase transitions in ferroelectric materials.
- Hysteresis loop measurement.